Loughary Stories | Bagen Stories
Loughary Lines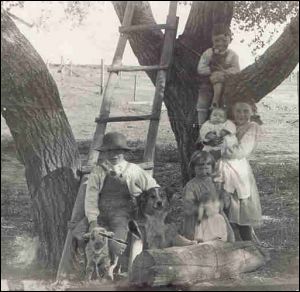 Loughary Lines is divided into several sections, each devoted to a particular family. Within each section there is a further division into Genealogy Reports and Stories, respectively. As of this edition of Lougahry Lines (5/02) sections have been devloped for Loughary, Bagan, and Fuqua families. Additional sections are under as listed are under development. Genealogy Reports are from Family Tree Maker 7.5.
The stories are a combination of fact, family tales, supposition and my imagination. It is important to get the genealogical facts straight when they can be uncovered. Nevertheless, historical fiction is often more interesting than bare fact, which can enhance and help sustain interest in family history. Genealogy is an ongoing project, one that others are invited to contribute.
Loughary Section
The correct (well, if you insist, preferred from my perspective) spelling is Loughary. The etiology of the name is discussed by Jewett (Jewett, Julia A. (1923), A Brief Genealogy of the Loughry Family of Pennsylvania, St. Louis Missouri, Copyright 1924). As compared to, say Ripley, tracing the history of the name is a relatively complex undertaking because of its many spellings. Here is what Ms Jewett has to say about the matter in the introduction of her book.
"The name is spelled in various ways, as was the case with most of the names of the early pioneers, but it is generally conceded, Lochry, is the correct spelling. This would indicate that name is of Scotch or Scotch-Irish origin. What is the meaning of Scotch-Irish? It is only an appellation given by Americans to the descendants of the Scots who settled in the north of Ireland and were chiefly of Saxon blood and their religion was Presbyterian, whereas those who were natives of Ireland were of Celtic blood and as we all know their religion was Roman Catholic and the races are said to be as distinct today as when the Scots first crossed the border and took up their abode in that beautiful Irish Land.
"The name 'Lochry' signifies Mountain Lake. Loch from the Scotch, meaning lake and 'ery' meaning mountain. The Wilsons, Loughrys and two other families came with Lord Forbes into Ireland from Scotland during the reign of James the First of England and settled in Loughford County, Ireland.(The Lord's clerk undoubtably didn't hear well, which probably accounts for the omission of the "a" in Loughary. ed.) There is lake there called 'Lough Rea' and another called 'Lough Ree', also a town in Galway County named 'Lough Rea', all of which would indicate the Loughry family settled there.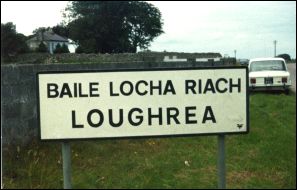 "The various spellings of the name in Pennsylvania may be of interest to some of my readers: Lochry, Lochra, Lochery, Loughry, Loughery, Loughrey and many others, but these are the principal methods. (Principal, perhaps, but certainly not primary, i.e., Loughary. ed.)"
Jeremiah Lockery was the name of the emigrant male of the Loughry family branch that Jewett documents. They came to America before 1740.
The Loughary Genealogy Report begins with the husband and wife team of John Loughary b.1775 and his wife Catherine (family name unknown) b. 1775 in Pennsylvania. They located in Tennessee. The family migration continued to Illinois, Iowa and finally Oregon. Four Loughary brothers emigrated to Oregon as part of two wagon train. It is not know how the other two brothers made the journey. Perhaps by sea, but more likey by the Oregon Trail.
Gent Section
Myrtle Ann Gent William Bell Loughary were married October 27, 1897 in Elgin, Oregon. He was born in Oregon of pioneer stock. Her parents walked from Missouri to Oregon in the 1800s. Perhaps they didn't have carfare, but they did walk all the way and Myrtle's older sister was born on the Oregon Trail.
Bagan Section
Margaret Genevieve Bagan, married William Ernest Loughary in Stanfield, Oregon in 1927. Her parents moved from Minnesota to Oregon in the early 1900s. The John and Bridget Bagan (Beegan) family emigrated from Ireland in March 1846. That genealogy is documented herein.
Tierney Section
Bridget Tierney and John (Beegan) Bagan were married in 1839 in Rosslea (?) Ireland.
Fuqua Section
The Fuqua Genealogy Report is hyper linked to the Loughary Genealogy Report. The connection is with Martha Fuqua and Hiram Smallwood Loughary married 1867 in Oregon. There is a parochial interest here in that Martha Fuqua's heritage leads eventually back to William Maxey born about 1592 and Elizabeth Broughton born about 1596 in England. One needs to engage in considerable gender switching to arrive there, but it is the only known claim to sixteenth century genealogy points. Not to be sneezed at, especially by a bunch of shanty Irish, and that accounts for its inclusion.
Jack Loughary