First international trip, if we don't count going over the border with my parents as a child to eat apple pie in Canada, was to South America in 1978. I was 33 and an assistant professor at the University of Oregon. The trip was labeled as Andes Holiday and trekked to Columbia, Ecuador, and Peru.
Columbia
Journal entry from first day in Bogata reads, "July 14–Went through old and new parts of the city and into smaller towns. Lots of Holsteins!….First impressions, some classy dressed women in the streets, lots of old buses, lots of crummy signs, not a particularly pretty city, but pretty, green countryside." Next day went to the Gold Museum, pictured, after a trip to the top of the city, journal states, "great warnings about our purses being taken."
The last breakfast in Bogota, the journal notes, "another good cup of Columbian coffee. I even like it black!" And that, I can tell you, is rare. On to Ecuador.
Ecuador
Arrived in Quito at 10 a.m. on July 16, 1978. "Local guide said it was an election day–first in 10 years and everything was closed. Told us not to go out after 6 p.m. People anxious about election. Hotel beautiful!!…Beautiful homes, well secured with broken glass tops on the walls. Got scared by teenagers drawing a knife…Heavy rain, strange because it's suppose to be the dry season."
Next day we toured the city, "snow capped mountains in both directions." Toured the city, "natives all have felt hats, sidewalk vendors…out to equator and took pictures in both hemispheres."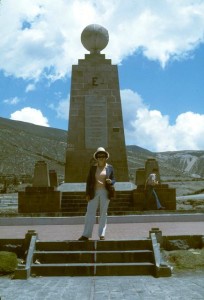 On July 18, 1978, we traveled to Latacunga. "Incredible countryside views–mountains and greenery. Guide told us about high taxes are and how wealthy the military are. Latacunga Market was an incredible sight."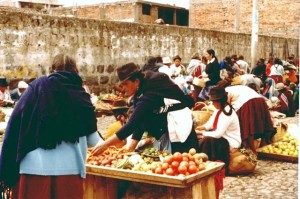 Peru
Journal entry from July 20 in Lima. "Demonstration outside hotel. The teachers have been on strike since middle of May. They are only paid $100 a month and expenses are high. I don't see how anybody lives. There were lots of shacks in the city with caved in roofs. Seems poorer than anything we've seen."
The next two days we went to the Amazon jungle, flying first to Iquiotos where I noted "hundreds of birds congregated" and the next day we took a boat ride to the 'meeting of the waters' of the Amazon and a tributary. I described the jungle walk as "VERY HOT & STICKY" and that was followed by going to a village where head shrinking was practiced. I hope that was had been, but then again, I'm not sure now 40 years later. I did make one more note that, "I don't like jungle weather!" So there, I told my journal.
If I didn't like jungle weather the Andes came quickly. We flew to Cuzco on July 24 which is at a very high altitude. From my journal, "Cuzco is beautiful. In earthquake times Inca foundations did not give but Spanish did. City at 11,500 feet. Was chilly but not that bad for sleeping."
The highlight of the trip came on July 25 with a 3-hour train trip and then a switchback bus ride to Machu Picchu, and then reverse back to Cuzco. But oh….the time in Machu Picchu. I said at the time, "I wish I would have had more time in Machu Picchu (not spelling it correctly) by myself or one other person. I got camera happy and took whole roll of film. Maybe I can get back some day!" That has not happened, but I did make a short video mostly highlighting Machu Picchu which is one minute long.
https://www.youtube.com/watch?v=ypZiou8dxHw
We flew back to Lima and stayed two nights before flying home on July 28. I noted in my journal, "Why am I so privileged that I have the opportunity to do this?" I'm still working on that one 40 years later, but the memories of this trip are burned into me.