William Floyd Ripley
by theresa m. ripley, granddaughter
William Floyd Ripley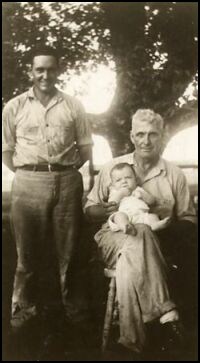 This picture has always been my favorite. For me it has symbolized what families and studying family history is about. It was taken in 1935, early spring. My brother Ray, an infant, is sitting on his Grandfather Ripley's lap. Grandfather has a slight grin on his face. My dad, Raymond, is standing to the side, just a tad behind his father, with his hands behind his back. He is smiling ear to ear. Behind all three of them is a tree; a big tree. Grandpa is seated in front of the trunk and my dad is standing in front of a branch. It appears Grandpa and Dad have just come in from the field because they wear heavily soiled clothing. I titled it our family roots picture. I have enlarged the picture, scanned it, used it on calendars, and even captured it on family mugs. As I said, I love this picture!
After careful study of the picture, I am certain the tree in the picture is the same one I climbed as a kid which means the picture was taken in the backyard of our family home across from the Ocoya Elevator on Route 66. This is the farm our family tenant farmed for over 60 years.
I never met my Grandpa William Floyd Ripley; I want to say grandfather, because I never got to use the more familiar name with him. He died 4 ½ years before I was born. The pictures I have of him make him seem quite appealing. I wonder what kind of man he was? Trying to understand, I searched through what meager information I had about him.
His early life is unclear. I do know that his mother, Hulda Hendersen, was married to John Lawson in Ohio and had two children by him before he died accidently when a limb fell on him. Hulda married a second time in Ohio. Her second marriage was to John Bartlett Ripley. John and Hulda had at least two children while living in Ohio and then moved to Illinois. I don't know the reason for the move.
I do know that my Grandpa William Ripley was born in Jubilee, Illinois, (near Kickapoo which is near Peoria) on March 8, 1877. In total, Grandpa Ripley had 8 siblings (two step sisters, and 6 Ripley siblings). His two Lawson step sisters were named Mary and Esther Caroline. I am unsure of the order of the Ripley children, but it appears that William was born third from the last. I think he had two older step sisters, two older sisters, two older brothers, and two younger brothers. I would be easy to get lost in a crowd that large by his position in the family! How were these children supported? Particularly when both the Lawson father and Ripley father died? What did these fathers do? I don't know. According to family history (Clifford Mears) Grandpa Ripley's father, John Bartlett Ripley, was killed in Ohio in a boating accident. I know John Bartlett Ripley is buried in Princeville, Illinois, in an unmarked grave. If he died in Ohio, why bring the body to Illinois? If one brings his body to Illinois, why didn't his wife or 6 children mark the grave? I don't know. And what of his wife? She had two husbands die suddenly of accidents and she was left the second time with 9 children.
I do know that Grandpa Ripley's mother married a third time, to a man named Jacob Cohenhour. I believe Cliff Mears told me Hulda's third husband was a fireman and I know he is buried in Pekin with his first wife. Did this man take on the responsibility for 9 children that were not his? Did he have other children from his former marriage? Did the older Lawson and Ripley children take care of the younger Ripley children, both physically and financially? How old was Grandpa Ripley when his father, John Bartlett Ripley, died? I don't know, but he had to be at least five because of his two younger Ripley brothers.
My next verifiable information about Grandpa Ripley is 1900 when he is listed in the Illinois census living in McLean County, Yates Township (Weston) living with his older brother, Onna D. Ripley, who is 33. Onna has a wife and children. Onna is listed as a farmer, renting his land, and William Floyd is listed as a farm hand, 23 years of age having not been unemployed the preceding year and being able to read, write, and speak English.
I don't know how Grandpa Ripley met his wife, Honora Sullivan, but they lived close to one another in Weston, Illinois. The marriage certificate of William and Honora lists William as a farmer and his place of birth is Jubilee, Peoria Co. and his father is Bartlet Ripley (no John listed). Honora and William were married on February 18, 1903, in the Fairbury Catholic Church and were the second couple to marry in the church according to family story. I have no reason to believe that William Floyd Ripley was raised as a Catholic, nor do I believe his sister, Florence, was. Therefore, I assume Honora converted her husband to the church.
By 1910 William Floyd Ripley and Honora Ripley are listed in the Illinois census in Eppards Point township with two children, Johnny P. and Raymond W., my father. William Floyd is listed as a rental farmer. I assume they lived on the land where a family favorite picture of Raymond and Blanche Ripley was taken in 1976. Raymond stated at the time the picture was taken that this was the place where he was born in 1908.
A directory was produced in 1917 entitled Prairie Farmer's Reliable Directory of Farmers and Breeders in Livingston County. In it, William F. Ripley is listed as a tenant or renter with a wife named Nora (the nickname for Honora) Sullivan with two children John and William. Their address is Chenoa R #1 in Eppards Point Township, Section 7. The owner of the 160 acres is listed as Mrs. Anna Raddick. William F. Ripley is stated as coming to Livingston County in 1903, the year William and Honora were married. This leads to the conclusion that William and Honora came to this property shortly after they were married and were living there until 1917.
I don't know where William and Honora lived between 1917 and 1940. At some point they moved to the property across from the Ocoya Elevator. According to oral history my parents lived with William and Honora after they married in 1934. William and Honora then moved into Pontiac after 1935. William Floyd's death certificate says he last worked at the occupation of farmer in 1937. William Floyd died 5 years later. I know the last place Honora lived was on 421 West Water Street in Pontiac. It was a boarding house she owned, but I do not know if William Floyd ever lived in that house.
The only other information I can relate about my grandfather is by looking at what few pictures I have of him. He is very dapper and handsome in his engagement picture, with a bowler hat, and equally well dressed for his marriage picture. I have two family pictures of William, Honora, and the boys and both times he is well dressed. He appeared to part his hair on the left side. His hair turned grey in his early 40's. He is an "oh so handsome" man in the picture taken in 1935, when he was 57. It is the picture in the work clothes and that is my favorite picture.
So, what do I know about my grandfather? It appears he would have had an early struggle with a mother losing two husbands and having 9 children. Perhaps he was raised more by his older step sisters. Clearly a brother, Onna, came to the forefront and housed him in his early young adult years and gave him work.
I do know another fact about my grandfather. He worked well with his hands. I have a quilt patch that he stitched and evidently, by my Blanche Ripley's memory, he was a better quilt piecer than his wife. I also have a butter paddle that he whittled.
After William Floyd married, he had two children, but he and his wife, Honora, came from large families. Was that a clear choice on their part to have a smaller family? He helped out his second son, my father, by housing him and his pregnant wife in 1934. My father told me that he did not go beyond 9th grade because he had to work on the farm. Was William Floyd's health failing in some way that it necessitated a son staying at home around 1920? Maybe my father quit school at 9th grade so his older brother, John, so close to finishing high school, could complete his education. William Floyd's death certificate says he had arterio sclerosis in 1930. He would have been 53 at the time and my father would have been 22. Perhaps this was another time of decreased capacity for farming for William Floyd. I don't believe my father ever lived away from home before his marriage in 1934. Thus as I saw years later between another generation of father and son, maybe my father was taking up the slack in farming his father no longer could handle in the mid 1930's.
I realize I have posed more questions than answers about my grandfather. I don't know the answers to these questions, nor probably ever will because there is no one left to ask in 2000. One fact we do know is father and son looked damn proud to add another generation to their "tree" in the spring of 1935.